- Character
Nickname : Charcoal Inpachi
Class: Champion
Planned Woe build:
link
Other gears : AK lunakaligo/evil ears for cades, hide dring, frilldora, valk shield, morph shawl. I rarely if ever swap out ED for porc.
Planned Woe skilltree (Skill Simulator) :
Link
Current gears (screenshot if possible) :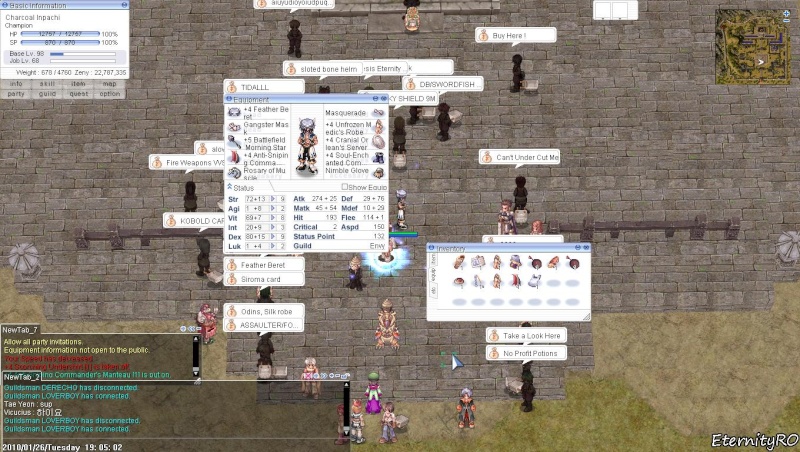 I'm waiting a bit to see if GMs implement different bg foods (+8 str etc) before using my stat points. And I haven't woed on v3 yet, need to see if 85 total vit will be enough.
General Questions
- Motivations to play RO (What do you like in this mmorpg ?) Mostly WOE. Bg/pvp on ero sux. Mvps are only for gearing.
- Why do you wanna join us? Lots of reasons, but mainly cause I like the logo =)
- Do you know some guys from the guild here? Not yet.
- What is the experience you have in the class you want to play? I've mained mostly crea, hw, prof for the last few years, but I know how to play champ.
- Do you play other MMORPG's (+ time compared to RO)? Eve Online. I just log in 1 min per week to add skills to the training queue lol.
- Old guilds (servers)? Ethereal RO, Euphro, Ero v2. I only did woe se in StrongHold though.
About woe (Yeah we are a woe oriented guild).
- Availability for Woe? Should be 100%, except during examination period. I'll notify when I can't make it.
- Weekly time you spend on getting mats for woe? I play a lot.
- Types and quantities of used consumables ? ~3000 ranked blues, ~1000 slim whites, ~100 speed pots/bor/bog, ~20 str,dex,int,vit food, ~30 berries/seeds.
- Explain (briefly) your role in a Woe? (SE - FE) Asura creas, profs, clowns. And cades/gs. On def, I'll probably just kill anything that moves.