- Character
Nickname : Domii
Age+Country: 18, Finland
Language: Fluent Finnish and English. Otherwise I understand Swedish, German and ittybit of Japanese.
Class: Paladin
Planned Woe build+Planned gears+Planned Woe skilltree (Skill Simulator) : Check the current gears pic, I will change my gears to BG armor set eventually. I have not been able to overup+slot cards [ED+Marc,Green Ferus, Ray] in them yet so the current gears will have to suffice. I certainly have read that you guys would not want a MR paladin, but this build is rather special, since it works well only in eRO. I should and will get 190 aspd with 1 base agi, as soon as i get my hands into a horn of buffalo. I probably won't use this setup too much in woe of course; more in BG. Valk shield and other reduction gears will be used most of the time in woe to allow me to stay alive better. To note what my paladin
lacks
apart from pure pure devo is.. providence lvl0, autoguard lvl5, shield reflect lvl5. Pressure is lvl1, which is enough anyway imo. Spear quicken is lvl1, which is enough to give the awesome aspd boost.
Current gears (A real screenshoot Looks always proer.)) :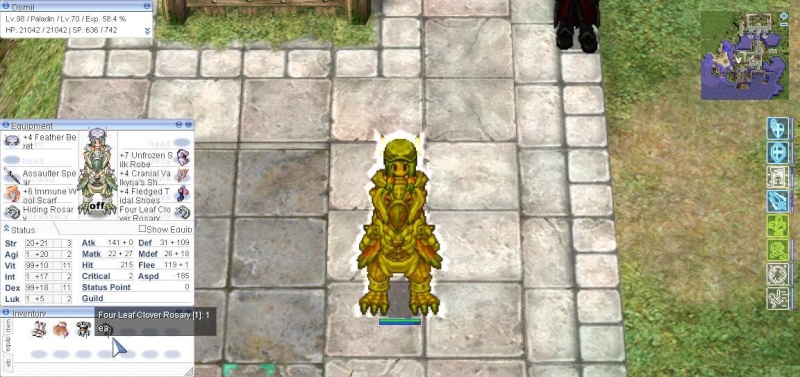 Current Level/Class: 98/70 Paladin, I need to get last 40% still lol.
General Questions
- Why do you wanna join us?
I see many tribs applying here and I will want to join the SE wars with a guild that has the ability to win
- Do you know some guys from the guild here?
I am not sure really, I have not bothered to fully check people I might know in different guilds
- What is the experience you have in the class you want to play?
I have not played paladin for long time, but I'm sure that I have enough experience in this game to compete just as well as anyone who has played paladin for longer time.
- Old guilds (servers)?
Mirage(UnityRO), Reminiscence(LunaRO) and from that on in Tribulation pretty much. I can't remember every server, but they have all been 3-10x rated. (this is the first 10x rate I have played). UnityRO was my first server i really played on.
About woe (Yeah we are a woe oriented guild).
- Availability for Woe?
I was one of the most active persons in tribulation during this server. I think i missed 1 to 3 wars max.
- Weekly time you spend on getting mats for woe?
Until now I have played high wiz here, and I was able to do well with BG consumables. I will hunt starsands for brewer, if it seems to me that i really need to have ranked slims with paladin.
- Types and quantities of used consumables ? Type what you wear during a battlefield ( according to your Weight limit)
Until now I will use either ranked fat whites or BG slims. Most likely ranked blues (I seriously have not had too great connection to ranked brewers so). Authorative badges I will use and probably get a couple of speed pots for needed situations. Berserk potion will be used pretty much always, since attack speed helps me in spamming various skills, and is vital part of my MR too. I actually plan on getting some status weapon or such for shield boom spam. You can see the gears I have currently in use, but the weight from 3 gears will go to 0 once I get my BG gears worked out.
-Do you got Gym pass on your character?
Not right now, and I won't donate, since I never do that for it's against my mindset of gaming. I'm rather sure that I will do fine even without them on this character.
-Why do you think we should recruit you?
I'm a really experienced player and have really diverse knowledge of this game. Try me.
-Are you using Teamspeak? Do you got a microphone?
I've been using ventrilo most of the time, but I guess that teamspeak will do. I have a mic.
-What the kind of Skill do you use with your class?
In woe: devotion, guard, reflect, defender (pretty much always when the running speed isn't needed). Occacionally I might attempt to kill someone with MR, but that should definitely be really uncommon. It's all in the situation. I will spam pressure on people, when it seems like a worthwile thing to do.
-Whats your position in Our LP ?
Out from extra damage so that I won't get too much stacked damage on me, so mostly in the middle or at 'backside', keeping the devotion up on the persons that need it.
P.S.
I wonder how many people get amazed on the sight of high aspd with no added agi :] Oh, and the last statpoints will go to str obviously.